Our full art services makes us unique! 

See our 'Selected Projects' brochure to see a range of art in situ!
Vicarage Gate
On the Vicarage Gate Project, we worked directly with the developer who had added really beautiful show flats in a new building in Knightsbridge. 
 The developer wanted to dress up the properties to have a show home look and wanted a very high and feel with lots of cream colours and beautiful interiors. 
 For the project we had a mixture of different artists including Henrietta, Lisa and Bozena who worked to create a range of abstract artworks with neutral tones. 
The main goal with this project was to not overwhelm for space or take away from the interior.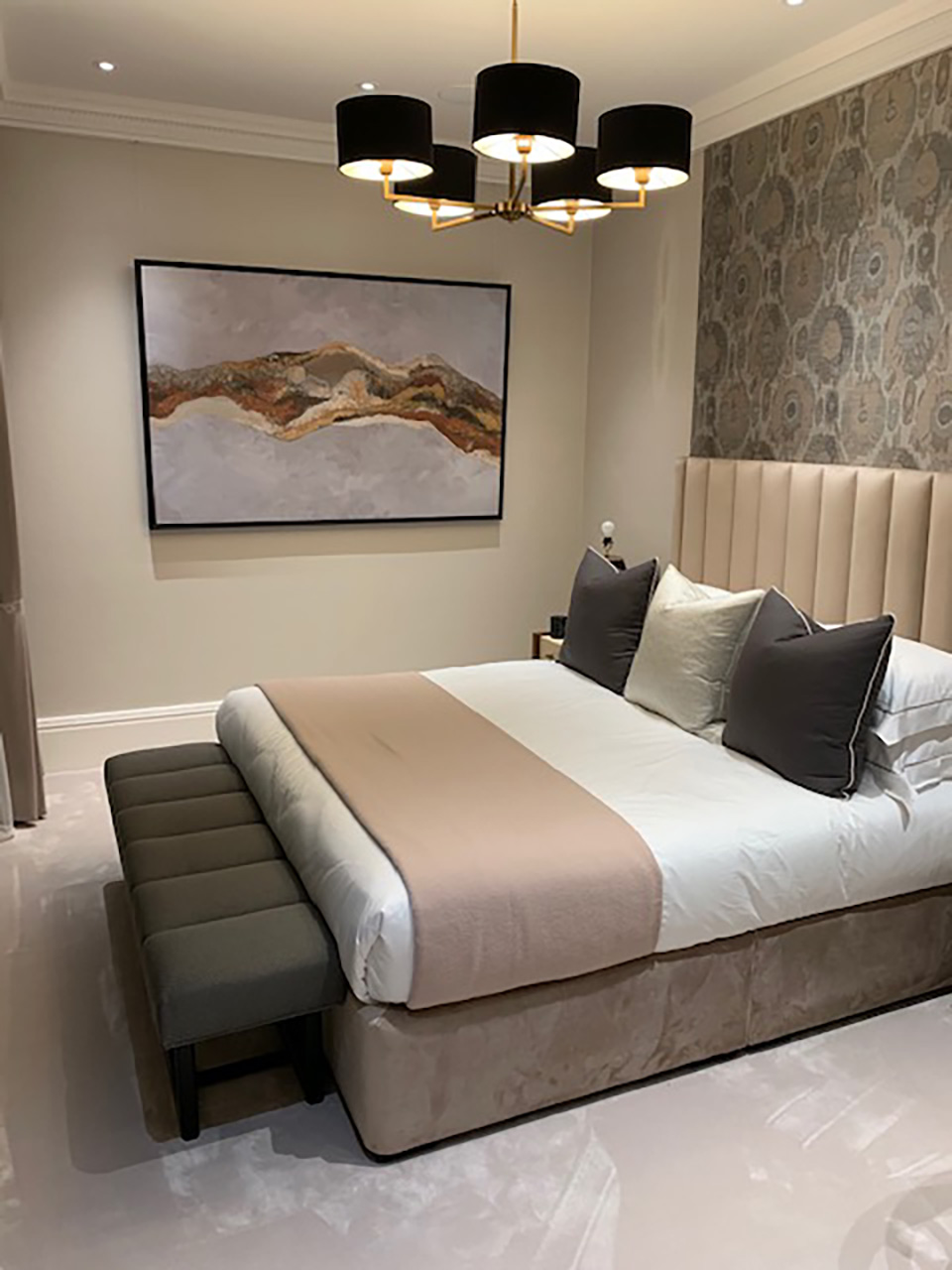 The Biltmore Hotel
The Biltmore hotel is a luxury 5-star hotel in Mayfair in London. The hotel features some of our most popular artists such as Isobel, Henrietta and Vivienne. 
 KCA, the interior designers for the hotel, required a variety of artwork for many different spaces including a large ceramic element direct-to-wall installation in the lobby area and throughout the dining area.  
They also wanted a series of prints, some abstract with 3D elements and some large scale mixed media pieces. This was one of our larger projects with a lot of the artwork being commissioned. 
With art in most of the rooms it was a large scale job but we're so pleased with the outcome.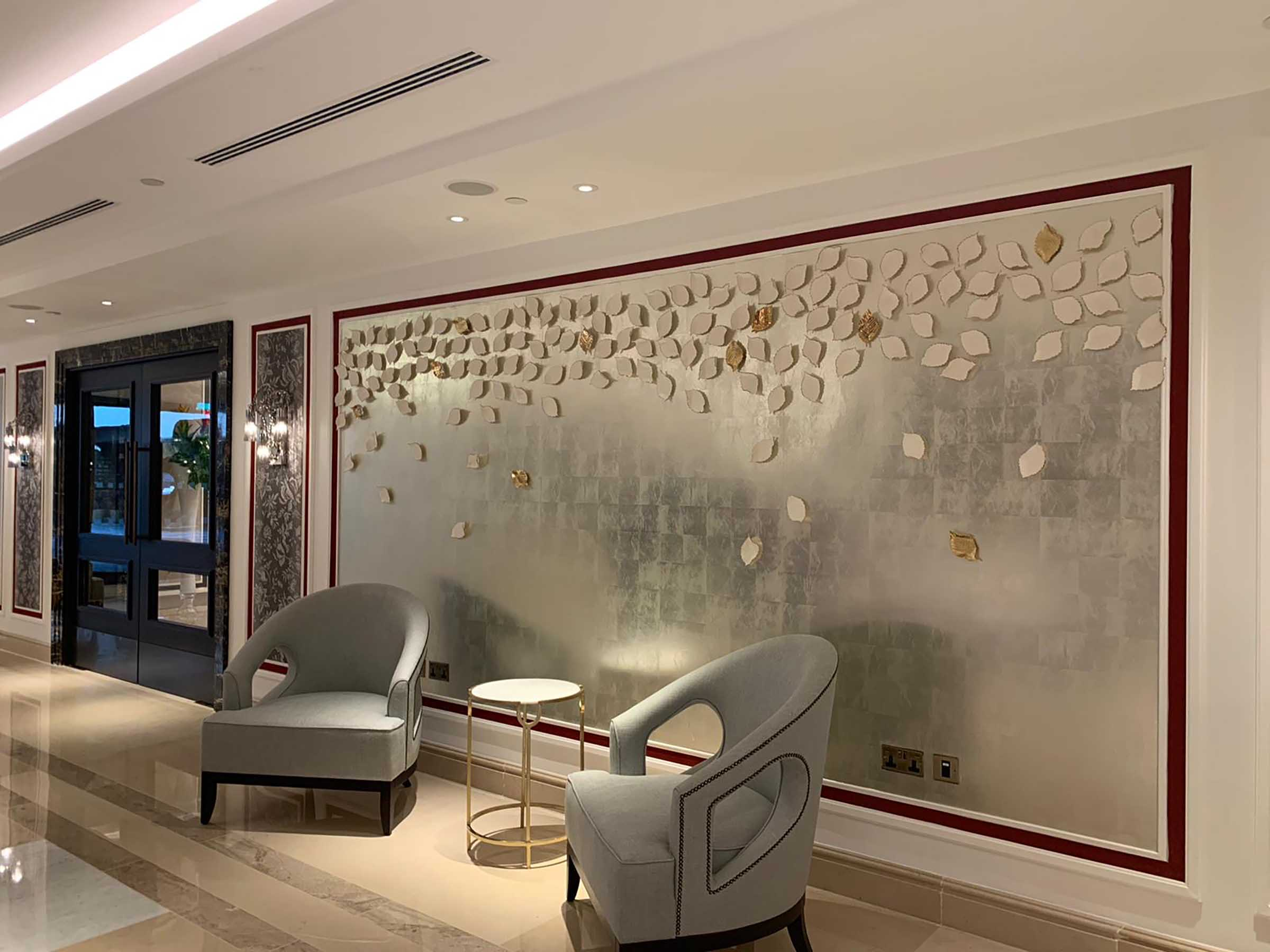 The Blakemore Hotel 
The Blakemore Hotel is a boutique 4* hotel based in London near Hyde Park. For this space, Studio Proof wanted to create something luxury to fit in with the hotel but still give the the feel of walking through Hyde Park. 
Each piece of artwork was commissioned and designed to fit the space with Hyde Park in mind as the subject matter. 
 One of the key pieces Luminaire Arts worked on closely with Studio Proof was a one-of-a-kind commission based off of the concept of walking through Hyde Park. Once the painting was completed, it was then digitally scanned so that it could then be transformed into panels for the lift doors in the hotel lobby. 
 The interior design team wanted an emphasis on London landscapes and used some of Luminaire Art's bestselling London based artists.
Chelsea Waterfront
Luminaire Arts worked on a stunning development show apartment on a Chelsea waterfront. 
Artworks were chosen with a contemporary style with a nod to the location and its link to nature and water. 
 Artist Bozena composed the perfect abstract for the unique river facing office, whilst a 3D installation from Claire of a cascade of metal etched birds really suited the open space. 
 Image credit - Morpheus London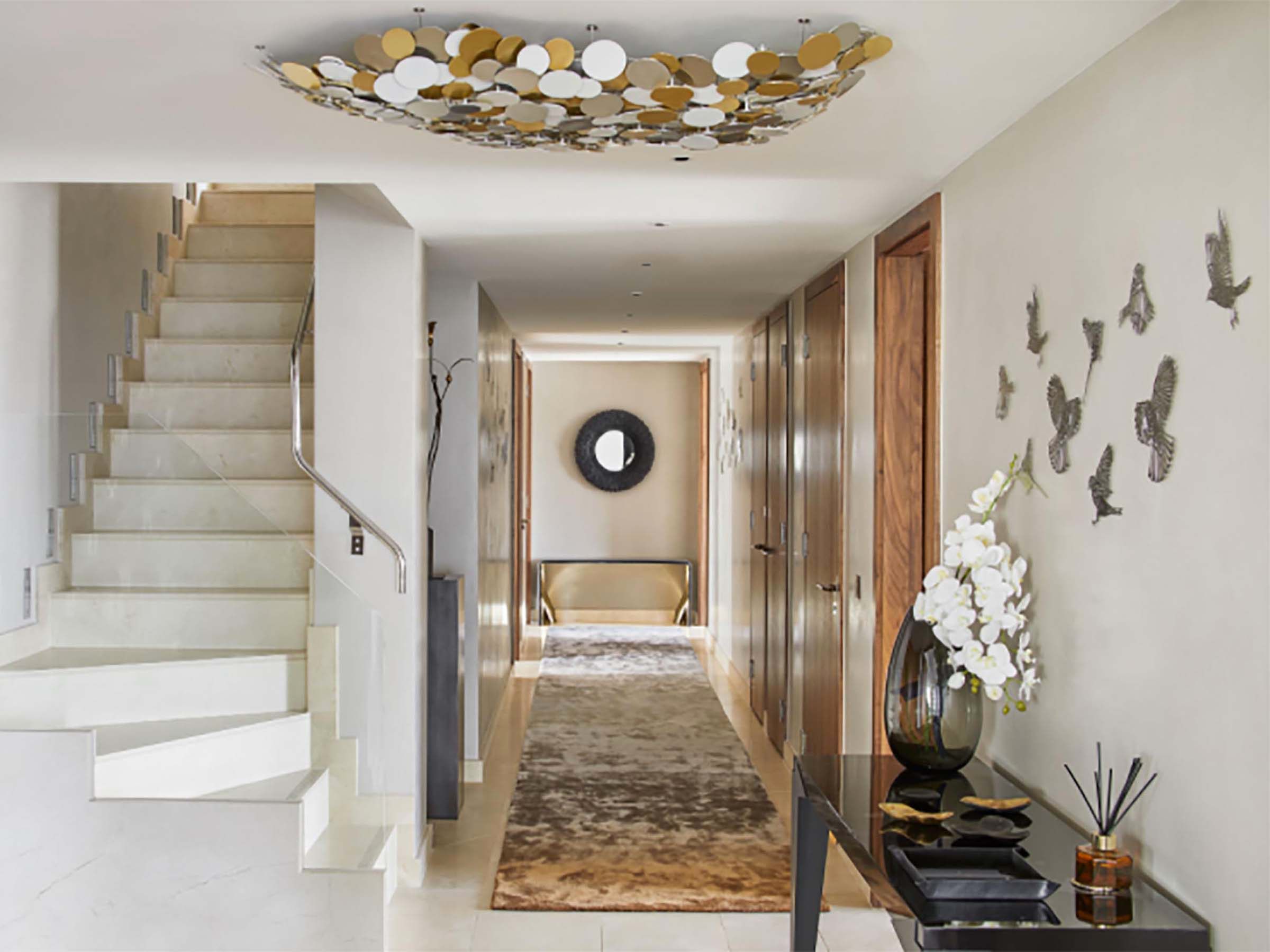 Crystal Cruise Ship
Crystal Cruises have commissioned bespoke artworks and wall sculptures from Luminaire Arts for 5 luxury river cruise vessels. 
Working alongside Interior Designers AD Associates, the Luminaire Arts team worked from concept and design stages to suggest and design artworks through to selection, specification and production. 
 Each space had its own design identity and artworks were commissioned to tell a story in each room. From miniature paintings collected in large box frames to oil canvases with resin to reflect calm voyages. 
One of the most prominent areas was the restaurant and receptions areas which feature intricate ceramics wall sculptures. Each individually hand formed and fired with gold luster and stunning ceramic colour finishes from Luminaires' talented ceramic artist Isobel.
London Headquarters
This particular project was in collaboration with popular London interior designers, Studio 11. 
The project called for artwork for several different areas and was a mixture of studio art, original commissioned art and available artwork that we carry in the gallery. 
 For this project, the client was looking for artwork that will complement the look, they didn't want anything flashy or any accent pieces. The client was an international asset management company with headquarters in New York, London and Dubai. This was their headquarters for Europe; it was a property in Knightsbridge, overlooking Hyde Park. 
They were looking for pieces that would be quite minimal, with clean lines and muted colours. Studio 11 selected 12 pieces from one of our resident studio artist's, Lisa.
Sloane Avenue
50 Sloane Avenue, brand new office spaces in Kensington, required fantastic and affordable art for their stunning new spaces.
Our sought-after collection of Mixed Media Editions was the prefect solution. 
Each work of art was commissioned to fit the colourways of the space, was hand finished with precious metal leaf or resins, and stayed affordable.
50 Sloane Avenue presents a variety of elegant, stylish and modern serviced office spaces in a prestigious brand new building in the heart of Kensington.
Chester Square, London
Interior designer Laura Hammett approached Luminaire Arts looking for several pieces of artwork to finish the look of a stunning five floor property in Chester Square, London Belgravia. The impressive Grade II Listed, Georgian façade house stands in one of the most expensive UK streets.
After visiting our showroom, Laura chose several pieces of art available in our gallery and beautiful golden 'Lily Pads' by Isobel were commissioned for one of the bathrooms. Isobel does gorgeous delicate porcelain work where each piece is hand crafted, fired three times and finished with a variety of colours.  An elegant teal sculpture by Philip enlivened a corridor on one of the floors and Jennifer provided three drawings for the guest bedrooms. A large canvas by Beatriz was chosen to go above a staircase. Beatriz's work is inspired by her surroundings as she translates the energy and visual information of her daily life into her work using colour as her personal language. 
24 King William Street
24 King William Street is a prestigious luxury office development project facing the busy intersection just off London Bridge.
Ben Adams Architects recommended Luminaire Arts to their client as we have a wide range of artwork to choose from. The clients went through original paintings, prints and photography in our database to find the perfect style and medium for the large reception space.
Paul's work was chosen as his use of double exposure is reflecting the ever changing face and weather of London. Paul captures objects on his traditional film camera as they change from one point of view to another.  The work, installed at almost 6m height, required a tower and expertise of our art installer. The works themselves are 1.8m high and 2m wide and are also visible through the large window face at the front of the building.
The Maple Building
The Maple Building is an elegant, clean-lined luxury apartment building in London's Kentish Town. Many parts of London have their own village feel and Kentish Town is no different. A unique atmosphere is enhanced by beautiful parks and quiet streets.
To complement the designer's choice of natural colours and textures in the newly built luxurious interiors, our consultants have felt it would be best to enhance these with Jennifer's work; a south African born artist settled in UK, whose work often resembles maps and various natural phenomena.
Claridges Hotel
Luminaire Arts were asked to propose a selection of bespoke artworks for the recent refurb of suites at Claridges hotel, Mayfair.
Considering the prestige and art deco heritage of the 5* brand alongside the contemporary clientele of the hotel, Luminaire Arts were proud to present talented British artists for the project.
Artists puts forward were prized for their technical and artistic skill especially in areas of photography and ceramics.
With clarity, passion and dedication Luminaire Arts have installed artwork that has had great response from both staff and guests at the hotel
Novotel Canary Wharf, London
Luminaire Arts worked alongside Koncept Design Studio and Accor Hotels to commission Sam's stunning installation at Novotel Canary Wharf. 
Inspired by the history of the area, which was formerly a thriving port, and working in collaboration with the hotel's industrial ethos, he has created two large steel wall panel installations, measuring a very impressive 9 metres wide by 3 metres high! 
This 39 storey hotel has certainly made an impact on the Canary Wharf skyline, with beautifully designed interiors throughout and a split level roof terrace bar with panoramic views over London.
The first installation is a riot of colour as you walk in to the hotel; with a strong focus on art in the lobby area, it is in fact titled the 'gallery'. Highly textural, the panels act as a focal point for guests, while also providing a decorative background.
Sam used mixture of recycled materials, coffee, and intense heat to create the 'rusted' effect. He worked exclusively with Dulux to create the colours exactly to the hotel and designer's specification.
Mercure Sheffield St Pauls Hotel & Spa
Luminaire Arts were asked by LRW Architects to come up with a creative solution for a large sculpture to inhabit the wall of the elegant atrium space at the St Pauls Hotel in Sheffield.
The hotel atrium housed an elegant and spacious space next to a Winter Garden for guests to relax, eat and converse making it perfect for a commissioned piece that would be admired for years to come. The designers had envisioned a concept of wind swept leaves in a material close to Sheffield's cultural and historical heart: steel.
In searching for an artist, Eddie was the perfect fit. Self taught metal sculptor Eddies' work opens up form, shape, colour light and the use of materials with an architectural and geometric feel, especially steel.  Eddie worked with Luminaire Arts and the client to produce a bespoke wall sculpture made from water jet cut corten steel leaves, which were hand formed and finished.
Artisan apartments, London
Luminaire Arts have successfully teamed up with award winning design practice Rolfe Judd and developer Dukelease to complete three artisanal boutique apartments in London's artistic quarter of Fitzrovia with fantastic artworks and sculpture.
The Artisan project on Goodge Street had art and craftsmanship at the centre of its design ethos and the project has deservedly won the London Evening Standard Conversion of the Year Award. The artwork was very specific to the project and the apartments, the works needed to be unusual but in a sophisticated, no nonsense way, they were very much part of the interior design concept.
The developers on Artisan were focused on having an exclusive bespoke offering they could use as an additional selling element. As interior designers it is always a pleasure to use bespoke 'one-off' products to give a sense of identity and personal style.
North london residence
Interiors by Sarah Ward has teamed up with our consultants to source art work for an elegant, large North London property. This extraordinary mansion was developed by Octagon in a Conservation Area in North London. It's comprising 21,630 square feet and was built in the Georgian style.
Luminaire Arts provided 8 pieces of art for this stunning property in association with Interiors by Sarah Ward. The artwork we commissioned included two 2 metre by 2 metre large scale resin, silver leaf and oil paintings by Jennifer, and artworks by Mireia.  The remarkable pieces by Beth were chosen in the gallery as the client loved the colours and movement of the medium.